Concerts in the Park
Unfinished Business
July 5, 2018
Genre:

60's Rock & Roll

Website:

Sponsor(s):

Ameripride

Food Vendor :

Su Casa Bar & Grill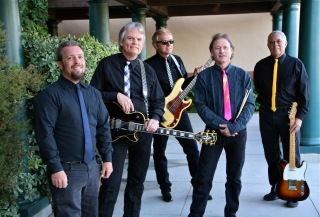 Unfinished Business is a California Central Coast band initially formed in 2003 with the idea of specializing in the authentic performance of what is arguably the best music of all time: 1960s rock 'n' roll. The members of Unfinished Business- David Hollister on drums, Jim Witt on bass and vocals, Ben Davis on rhythm guitar and vocals, and Ed Miller on lead guitar and vocals- all played in different local bands in California, unknown to one another, during the '60s. Although the muse was constantly whispering in their collective ears, they all eventually set their music careers aside to pursue "real jobs" and raise families.
Well, the '60s are now long gone, but the members of Unfinished Business still have a passion for the music of that era and their "unfinished business" is to pick up where they all left off "way back when" by playing in a band again and performing the hits of the '60s by the great artists of the era, ranging from The Animals to The Zombies and including The Beatles, The Beach Boys, The Rolling Stones, and various Motown artists. Long live '60s rock 'n' roll!
Unfinished Business has been both a headliner and a support act for national recording artists and has provided the featured entertainment for literally hundreds of local charity benefits, community events, festivals, and private functions. These professionals always bring the highest standard to every performance with complete sound and lighting systems, incidental music, appropriate stage dress, and a rehearsed show with a minimum of talk, a comfortable and enjoyable audience rapport, and an emphasis on great dance music. As you sprint to the dance floor, you'll find yourself singing along with every song!
« Back to Concerts in the Park