back to Current Projects
Downtown City Park Playground Renovation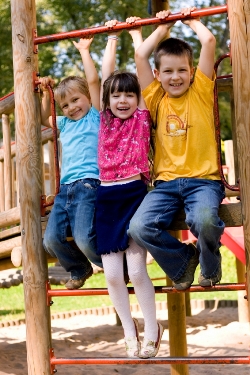 Background
The Downtown City Park Playground area was last upgraded in 1980 and is now in desperate need of renovation. The playground structures have deteriorated through the years.
Recently, the REC FOundation joined with the City of Paso Robles to fund and begin the Downtown City Park Playground Project and park revitalization. Though the Foundation planted the seed for this project over 10 years ago with a $10,000 commitment, the past three years have been concentrated on creating awareness and raising money to upgrade the City Park, specifically the playground.
Seasons of Concerts in the Park attendees have contributed to the Playground Project fund, encouraged by 13 dedicated individuals who make up the REC Foundation Board of Directors. Concert collections total $29,700 with a $25,000 match from the Foundation. Private individual donations total $40,100.
Overall, the REC Foundation is contributing $94,800 to the revitalization effort. The monies raised were the impetus that brought the Paso Robles City Council to authorize execution of a state agreement for a grant from the California Department of Housing and Community Development Housing-Related Parks Program for $804,450. The funds will be used to rehabilitate Downtown City Park, which includes the playground renovation. The conditions of the grant stipulates that the funds be used by June 30, 2016.
Contributions made specifically to the REC Foundation will be maintained in a park endowment account to cover needed repairs and maintenance of the new playground.
Individual donors will be recognized throughout the Playground by permanent displays of brick pavers, medallions, and signs.
Opportunity for this type of recognition will close at the end of February 2015. Click here for information on donating to the Playground Project or by calling City of Paso Robles Recreation Manager, Lynda Holt, at (805) 237-3987.